Winter Newsletter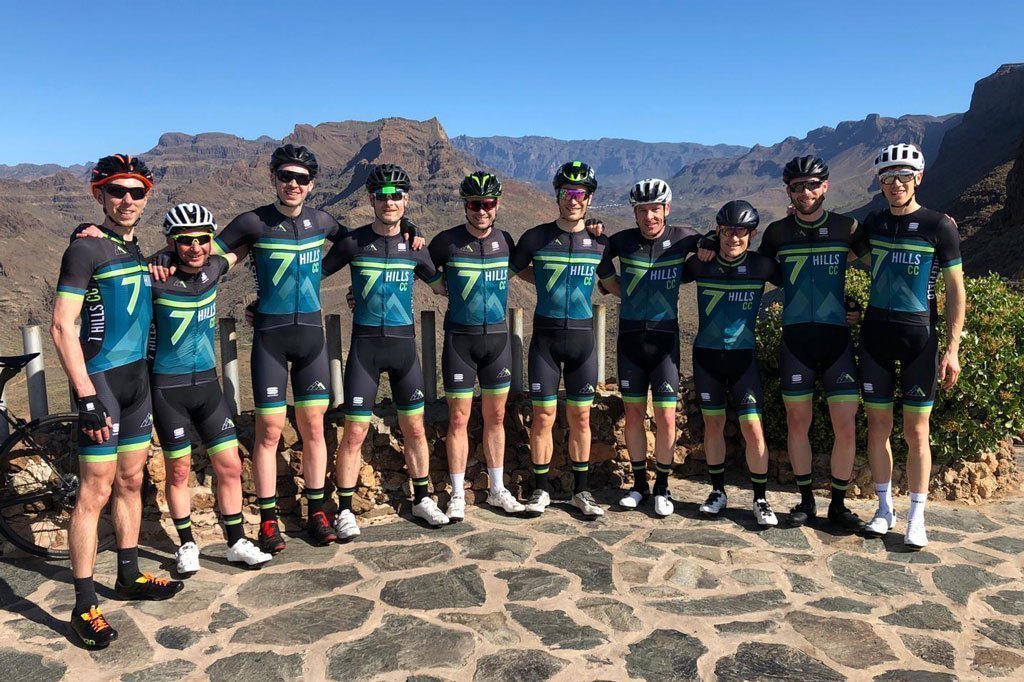 Winter Newsletter 2019
Welcome to our first Newsletter Of 2019, It's going to be a BIG year for the 7 Hills Cycle Club. The AGM was held one dark January evening courtesy of Steve Power's offices and was well attended by over 35 club prospects and members.
After forming the Club in 2015 Rob Ingle Chairman and Jon Pupius Secretary will be stepping down with the new appointments of Paul Forster Chairman and Dave Morrison Secretary for 2019 and 2020. A group of willing individuals put themselves forward for steering the Committee with assistance in the Clubs organization, website, trips, rides, kit and much more.
A big thank you goes out to Rob and Jon for all the good work they have achieved in getting 7 Hills CC
to this point. We hope to see them out at the events and socials as we head into 2019.
Membership fees for 2019 will remain at £30 per calendar year with the annual subscriptions being released via the British Cycling 7 Hills Cycling Club portal. Please keep an eye open for a British Cycling email containing the payment gateway to your membership.
To provide us with the information we need to release the subscriptions email we will also be sending out our 2019 Club Survey. The Survey will contain a request for your personal data we need to collect in line with the terms and conditions of British Cycling and will be held securely under the Data Protection Act 2018 by 7 Hills CC.
The Survey contains lots of new areas added this year to get a better understanding of what the members want from the club and to allow us to explore new rides, trips and ideas for the greater audience.
The ethos of the Club will remain the same in 2019 with the focus on two group levels of rideability with multiple turn points, cafe stops, the usual friendly banter, great club kit, the racing snake's scene, overseas and UK trips and the usual social events and post-ride beers.
We hope the new kick start to the Club in 2019 will inspire you to head out and get in some winter miles, or at least attend some of the social events planned until the weather turns.
Look forward to seeing you all soon…our First Wednesday of the Month Club Social will be Wednesday 6th February 2019 in the Lescar Pub Sharrowvale Rd, 8pm all members and non-members welcome. This will be followed by a Curry over the road in our resident Mogul Room restaurant.
Catch up with you all soon…
Gran Canaria 2019 team photo with two new members from the previous year, Dave Morrison and Fletch prooved their worth out on the tarmac and made a welcome addition to the team, and no we didn't quite fix the sock issue.
Tensions were high in the Airport as the team were set to test their legs on the shakedown ride once the transfer to the apartment was complete.
New Website Underway…
New 7 Hills CC website is underway courtesy of our resident and long term member Andy Newby, you probably all knew of his talents on the bike, I assure you his talents to the digital world are even better.
The scope for the site will be to provide a location for all club news, members area, events, trips, ride and race calendar, subscriptions and payment gateways, this will integrate with all the usual payment methods to streamline your access to bookings, events and trips.
The later addition of an e-commerce shop will give you access to club kit, casual wear and will ensure we have a single platform you all can turn to for information and seamless payments whilst using the WhatsApp groups for daily ride banter.
Progress in these areas will be updated in our monthly newsletters and discussed at our first Wednesday of the month social events.
Oakbrook Cafe for 2019…
The Oakbrook Cafe will continue to be our meeting point for 2019 for Saturday rides with opening times of 08:30am with prompt ride depart time of 09:00am sharp for 2019.
Running late… drop a message on the WhatsApp group and we will hold up for you, or at least until we climb Ringinglow Rd. On a more serious note, there is always a group who are planning a more leisurely paced ride if your fitness levels are not quite at summer levels as yet.
Each week a standard Saturday group ride will be posted by a member with options for an A-group pace and a more sedate B-group pace with multiple turn points and the obligatory cafe stops.
The plan is to cater to the wider audience where a layoff period is not going to stop you venturing out with the Club and enjoying the camaraderie of riding with a group of like-minded friends whist not turning yourself inside out chasing down the GC lads and racing snakes.
Each month a no-drop ride will be planned, generally exploring new areas less visited by the Club and will cater to all members abilities. The day will finish with a few beers and food for those with time on their hands and generally no home to go to…
Mega Trips for 2019…
This year we are stepping up a gear to provide some memorable trips subject to an interest in each option. There will be a full list of proposed trips for 2019 released in the Club Survey.
Not all trips listed will be available, as it will be reliant upon which trips get the most interest where then we will take time to plan and deliver the tip to the usual 7 Hills CC standards.
Gran Canaria 2019 Training Camp…
Now fully booked…
This year we will be fixing the sock issue…
Proposed trips for 2019…
Belgium long weekend
North Yorkshire long weekend
Three Peaks Challenge
Everesting Challenge
The list goes on…
Events for 2019…
Events both ride and social set 7 Hills CC apart from our rivals in the Sheffield cycling community, our aim is to continue this into 2019 with the key events we have all come to know and love.
Veloviewer Segment Challenges – Hills-Sprint-TT
Magnificent 7 Ride
Tom Simpson Ride
Humber Hump 150+ mile ride
7 Stupid Hills summer epic ride
Summer BBQ Party
Hill Climb Series
Club Socials first Wednesday of the month
The list goes on…
This year there all back on the agenda. The next coming week's, dates will be provided and these will be added to the Club Calendar…
Club Kit Orders 2019…
So you have seen it, now you can wear it, the most sort after club kit in Sheffield. We are planning on two orders of club kit this year with the first order in February for early summer deliveries and a further order in August for winter delivery.
The Club Survey will detail all items and allow you to express an interest in ordering your new kit for the summer, a further kit form will be released to confirm orders. As with all previous orders, a minimum order quantity is required to allow a production run so get in fast and ensure minimum numbers are met.
Further development within the new website will allow us to sell available kit online and provide the usual payment gateways for ease and will be coming later in the year.
For current stock levels, please email the club and we can provide costs and availability.
Final Words…
The standard staple rides are firmly on the menu for 2019 and have been well attended by the current members.
Final Words…
WARNING…IF YOU SEE THIS BIKE YOUR LEGS ARE GONNA HURT!!! thanks Gav…
Tuesday night training ride 6:45pm from the Norfolk Arms pub on Ringinglow Rd, 35-40 miles routes subject to the weather.
Thursday night chain gang ride 6:45pm Dore station 40 miles, Owler Bar, Hathersage, Castleton, Surprise.
Saturday mornings Oakbrook Cafe on Oakbrook Rd 09:00am 50-60 miles and usually an extension available to 80-100 miles
Sunday Club training ride available on the WhatsApp group and will be posted in due course.
We hope you have enjoyed this Newsletter and hope to see you out on the bike in the near future or at least see you at the monthly Club Social. We will aim to bring you all the latest Club news from the latest trips and events by this email mailing list but if you do not want to be included then please unsubscribe below.
The Socials are where we all catch up for a chat, review of what's going on within the club over a few pints with time and places posted on the WhatsApp group for members.
This month the social will be held on Wednesday 6th February 2019 in the Lescar Pub Sharrowvale Rd 8pm all members past and present welcome. A few will head over the road for a Curry in our resident Mogul Room restaurant.
See you out on the road soon…
Up The Hills…