Gran Canaria 2019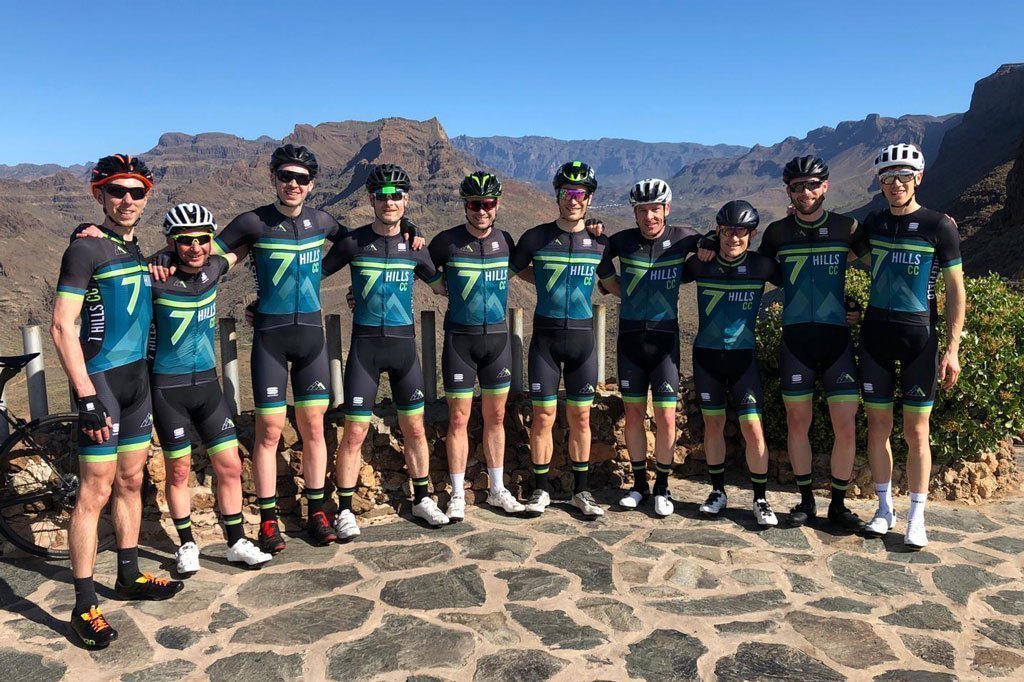 Gran Canaria 2019 team photo with two new members from the previous year, Dave Morrison and Fletch prooved their worth out on the tarmac and made a welcome addition to the team, and no we didn't quite fix the sock issue.
Tensions were high in the Airport as the team were set to test their legs on the shakedown ride once the transfer to the apartment was complete.
This will be a trip to remember for many reasons, not just many members smashing their PB's on the segments but also some unplanned events…your nicked 7 Hills CC.
One hundred quid lighter we were on our way having lost a couple of hours to an overzealous local copper who knicked us all for ignoring his whistle blows.
The road to Morgan from Maspalomas to gain access to the famous Orangeman Climb has been closed for the last couple of years but this trip a new obstacle of a 4m high set of walls have been erected to prevent access. Not stopping the Club for a small 7 euro fee the hourly ferry took us from Puerto Rico to Puerto Mogan bypassing the closure.
Epic climbs, great company, segment hunting and plenty of cafe stops were the order of the day as we wound our way through the volcanic valleys of the island.
Rich enjoying the Orangeman Climb with the obligatory 7 Hills CC stickers left for good measure.
The island this time of year is a haven for professionals, we saw many Pro Tour riders enjoying the sun and even bumped into Dan Evans the 2 x UK Hill Climb champion and Jess Evans 5 x UK Hill Climb champ who tagged Andy in this feed.
After a week of climbing some of the best roads in the World, plenty of food and beer, the team headed out for a final night Tapas meal followed by VIP in Pacha nightclub where the Vodka flowed.
So, after a few sore heads, the obligatory ejection from the nightclub the trip was over. Many memories of GC 2019 will stick with us for years to come and scar a few for many more.
So the week in numbers minus the day 1 shakedown ride, around 800km of riding with over 17km in elevation! Worth every winter session in the cold and dark to get in shape for this trip.
Plans afoot for next year with many of the annual crew confirming attendance for next season. Will be offering this trip out to the club in the months to come.